Group Policy Editor in windows 7 home premium or Windows 7 Starter, Basic is not functional. Here is a free tool to enable the Group Policy Editor (gpedit.msc) in those versions of Windows 7 with details how to use.
If you try to open the Group Policy Editor in Windows 7 Home Premium, Starter or Basic by typing gpedit.msc in the start menu search box or try to run it, the "local Group Policy Editor" window will open with the following message, "MMC could not create the snap-in".
The reason is, you will not have the Local Group Policy Editor available in the Windows 7 Starter, Home Basic, and Home Premium editions. Same non availability of  Group Policy Editor error will show if you use Windows 7 Home Premium on a Mac.
Here is what jwils876 has done a great job by distributing this tool originally created by "davehc" on the Windows 7 forums. He has created an small tool that will enable Group Policy Editor in Windows 7 Home Premium or lower versions.
Preview the Tool to enable the Group Policy Editor in Windows 7 Home Premium or lower version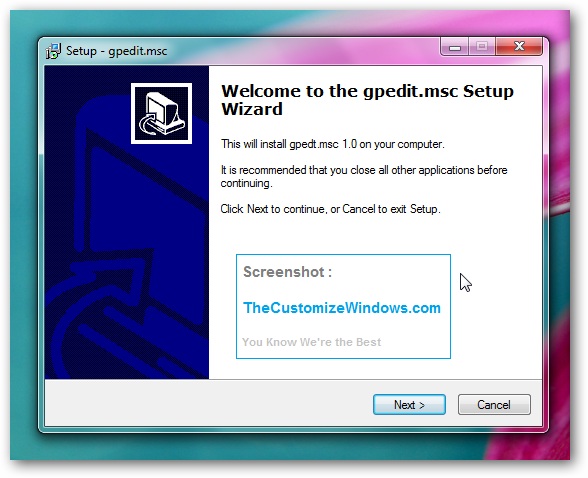 Download the Tool to enable the Group Policy Editor in Windows 7 Home Premium or lower version
Download-Download tool to enable Group Policy Editor

Tagged With
GPEDIT MSC
,
gpedit msc windows 7
,
gpedit
,
http://thecustomizewindows com/2011/07/group-policy-editor-gpedit-msc-in-windows-7-home-premium-enable/
,
Gpedit Windows 7
,
gpedit in windows 7
,
group policy in home premium
,
gpedit windows 7 home
,
gpedit msc windows 7 home
,
edit group policy windows 7