5050 LED Strips are cheap LED strips which resemble costlier Neopixel strips but the LEDs in 5050 LED Strips are not individually addressable. That means you can use the animations as one coloured LED at one time. You can run the common old animations such as change of colour, dimming effect etc. But we can not run tricky animations such as chase. 5050 LED Strips are a good choice for interior decoration and similar situations where we need continuous light. The entire strip has the same effect and colour, this is an analogue strip. The 5050 it's the size of the led 5mmx5mm. Unlike Neopixel strips, these 5050 LED Strips lack the ground pin and there are a total of four connecting pins:
Pin for red
Pin for green
Pin for blue
Vcc or +ve
The required voltage differs and the 5V variant is easy to power (when used with Arduino UNO or ESP32). There are 12V and 24V variants. You'll need additional hardware, namely three output MOSFETs for each R, G and B channel (these strips use a lot of power). You can use :
IRF540N MOSFET (you can use 5V or 12v strips with it)
or
STP16nF06L MOSFET
or
S8050 NPN transistor
or
BC337 NPN transistor
Three 1k resistor
Avoid using TIP120 as they are a bit old and inferior compared to a proper MOSFET.
You can measure the current draw of your 5050 strips on full white (it should be about 1.5Amps/Meter) and see if it divided by 3 is lower than the maximum current in the transistor datasheet. Whatever you use, the circuit diagram will be like this: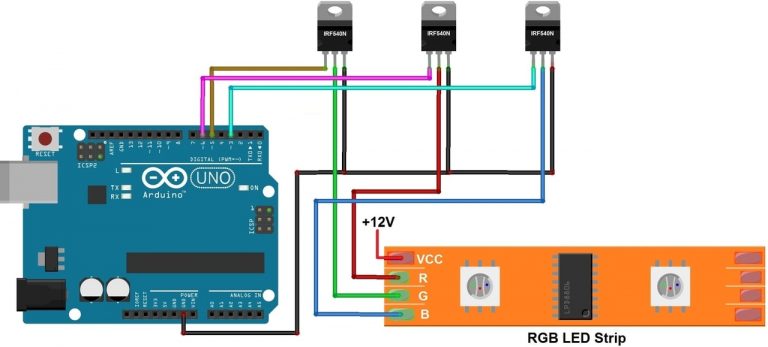 (The above circuit diagram is by how2electronics.com)
If you are using Visual Studio Code & platform.io set up then use this project:
https

:

/

/

github

.

com

/

Aircoookie

/

WLED
In this file :
https

:

/

/

github

.

com

/

Aircoookie

/

WLED

/

blob

/

main

/

platformio

.

ini
For ESP32, comment out the existing default_envs, and remove the semicolon from the default_envs line that mentions esp32dev. Follow their guide.
If you want to just run a test, then you can use this code written by how2electronics.com:
1

2

3

4

5

6

7

8

9

10

11

12

13

14

15

16

17

18

19

20

21

22

23

24

25

26

27

28

29

30

31

32

33

34

35

36

37

38

39

40

41

42

43

44

45

46

47

48

49

50

51

52

53

54

55

56

57

58

59

60

61

62

63

64

65

66

67

68

69

70

71

72

73

74

75

76

77

78

79

80

81

82

83

84

85

86

87

88

89

90

91

92

93

94

95

96

97

98

99

100

101

102

103

104

105

106

107

108

109

110

111

112

113

114

115

116

117

118

119

120

121

122

/

/

#

of

milliseconds

to

pause

between

each

pass

of

the

main

Arduino

loop

/

/

brightness

level

of

each

colour

(

0..255

)

/

/

fade

step

counter

for

LED

cycle

through

off

(

510

steps

)

,

fade

on

(

255

steps

)

,

/

/

on

(

510

steps

)

,

fade

off

(

255

steps

)

1530

total

steps

/

/

number

of

times

LED

has

completed

a

full

fade

cycle

/

/

used

to

establish

what

values

to

send

to

LED

strip

/

/

===

===

===

===

===

===

===

===

===

===

===

===

=

/

/

--

--

--

--

--

--

--

--

--

--

--

--

--

--

--

--

--

--

-

pinMode

(

RED_PIN

,

OUTPUT

)

;

pinMode

(

GREEN_PIN

,

OUTPUT

)

;

pinMode

(

BLUE_PIN

,

OUTPUT

)

;

/

/

set

initial

strip

color

.

0

(

off

)

to

255

(

on

)

.

can

be

anything

or

nothing

.

/

/

This

value

is

constrained

to

0

-

255.

any

number

higher

than

255

will

be

rounded

down

to

255.

/

/

any

number

lower

than

0

will

be

rounded

up

to

0.

/

/

Set

starting

fade

step

position

.

-

764

to

-

255

=

on

(

brightness

level

is

255

)

/

/

-

254

to

0

=

fading

on

(

this

number

*

-

1

=

brightness

level

)

/

/

0

to

510

=

off

(

brightness

level

is

0

)

/

/

511

to

765

=

fading

off

(

this

number

-

510

=

brightness

level

/

/

must

each

be

510

steps

apart

for

smooth

color

pauses

.

/

/

if

pauses

removed

by

commenting

out

or

removing

ColorValue

if

statements

and

rplacing

/

/

with

setLEDS

(

Brightness_R

,

Brightness_G

,

Brightness_B

)

;

,

which

I

've already done, these number

//can be any value from -764 to 765 in any combantion, likely making many unplesant fade patterns,

//but also with many possibilities for interesting patterns. If all values are 510 steps apart

//the results will ROY G BIV either forward or backward and starting at different positions

//depending on the values given. the farther off the 510 steps of seperationg the further from

//ROY G BIV the pattern will move.

FadeStep_R = 0; //0 These setting for normal ROY G BIV

//Set each LED'

s

fade

cycle

counter

to

0

/

/

===

===

===

===

===

===

===

===

===

===

===

===

=

/

/

ARDUINO

MAIN

LOOP

ROUTINE

/

/

--

--

--

--

--

--

--

--

--

--

--

--

--

--

--

--

--

--

-

/

/

decrement

each

LED

's fade step counter by one at the start of each loop

FadeStep_R = FadeStep_R - 1;

FadeStep_G = FadeStep_G - 1;

FadeStep_B = FadeStep_B - 1;

//fade red LED according to it'

s

fade

step

counter

.

if

(

FadeStep_R

==

-

764

)

{

FadeStep_R

=

765

;

}

if

(

FadeStep_R

<

0

)

{

Brightness_R

=

FadeStep_R

*

-

1

;

}

if

(

FadeStep_R

>=

510

)

{

Brightness_R

=

FadeStep_R

-

510

;

}

/

/

if

(

FadeStep_R

==

-

510

)

{

CycleCountR

=

CycleCountR

+

1

;

}

/

/

count

+

1

for

each

full

fade

cycle

/

/

fade

green

LED

according

to

it

's fade step counter.

if (FadeStep_G == -764) {FadeStep_G = 765;}

if (FadeStep_G < 0) {Brightness_G = FadeStep_G * -1;}

if (FadeStep_G >= 510) {Brightness_G = FadeStep_G - 510;}

// if (FadeStep_G == -510) {CycleCountG = CycleCountG + 1;} //count + 1 for each full fade cycle

//fade blue LED according to it'

s

fade

step

counter

.

if

(

FadeStep_B

==

-

764

)

{

FadeStep_B

=

765

;

}

if

(

FadeStep_B

<

0

)

{

Brightness_B

=

FadeStep_B

*

-

1

;

}

if

(

FadeStep_B

>=

510

)

{

Brightness_B

=

FadeStep_B

-

510

;

}

/

/

if

(

FadeStep_B

==

-

510

)

{

CycleCountB

=

CycleCountB

+

1

;

}

/

/

count

+

1

for

each

full

fade

cycle

/

/

if

step

counters

are

intialized

510

steps

appart

,

-

510

is

the

step

in

each

LED

's fade cycle

// that it will be on full brightness while the other 2 LED'

s

are

off

.

Brightness_B

=

constrain

(

Brightness_B

,

0

,

255

)

;

Brightness_G

=

constrain

(

Brightness_G

,

0

,

255

)

;

Brightness_R

=

constrain

(

Brightness_R

,

0

,

255

)

;

/

/

if

(

CycleCountB

==

8

)

{

CycleCountB

=

0

;

}

/

/

if

(

CycleCountR

==

8

)

{

CycleCountR

=

0

;

}

/

/

if

(

CycleCountG

==

8

)

{

CycleCountG

=

0

;

}

/

/

if

(

CycleCountR

==

2

)

{

ColorValue

=

1

;

}

/

/

set

point

for

pattern

to

pause

on

red

/

/

if

(

CycleCountR

>

2

)

{

ColorValue

=

0

;

}

/

/

if

(

CycleCountG

==

4

)

{

ColorValue

=

2

;

}

/

/

set

point

for

pattern

to

pause

on

green

/

/

if

(

CycleCountG

>

4

)

{

ColorValue

=

0

;

}

/

/

if

(

CycleCountB

==

6

)

{

ColorValue

=

3

;

}

/

/

set

point

for

pattern

to

pause

on

blue

/

/

if

(

CycleCountB

>

6

)

{

ColorValue

=

0

;

}

/

/

Send

brightness

levels

to

LED

strip

setLEDS

(

Brightness_R

,

Brightness_G

,

Brightness_B

)

;

/

/

if

(

ColorValue

==

0

)

{

setLEDS

(

Brightness_R

,

Brightness_G

,

Brightness_B

)

;

}

/

/

default

to

fade

pattern

/

/

if

(

ColorValue

==

1

)

{

setLEDS

(

255

,

0

,

0

)

;

}

/

/

LED

strip

red

/

/

if

(

ColorValue

==

2

)

{

setLEDS

(

0

,

255

,

0

)

;

}

/

/

LED

strip

green

/

/

if

(

ColorValue

==

3

)

{

setLEDS

(

0

,

0

,

255

)

;

}

/

/

LED

strip

blue

/

/

slow

the

loop

down

a

bit

/

/

send

the

LED

levels

to

the

Arduino

pins

void

setLEDS

(

int

ipR

,

int

ipG

,

int

ipB

)

{

analogWrite

(

RED_PIN

,

ipR

)

;

/

/

send

the

red

brightness

level

to

the

red

LED

'

s

pin

analogWrite

(

GREEN_PIN

,

ipG

)

;

analogWrite

(

BLUE_PIN

,

ipB

)

;

}